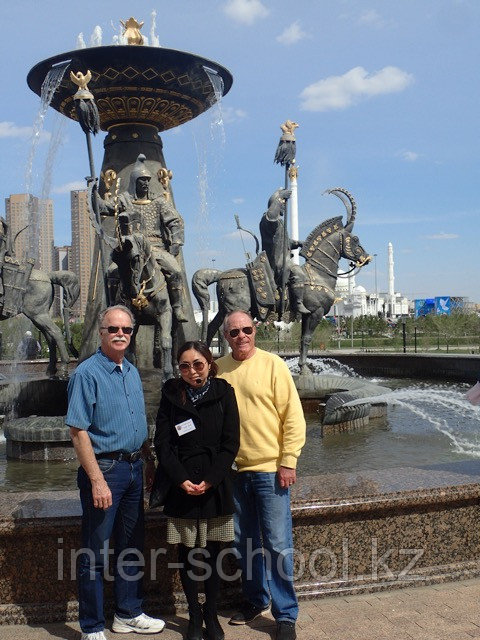 пр. Победы, д.61, к. 8, Нур-Султан, Казахстан
Описание
Sightseeing tours in Nur-Sultan (Astana) with a local guide in English
Our company provides Astana city tours in English, Russian, Kazakh, German.
Our company also offers transfers to/from the airport/railway station on any type of vehicles as well as providing interpreting services and accompanying foreign guests/delegations.
City Tour "Astana is the heart of Kazakhstan"
This sightseeing tour includes visits to main sights in Astana. Walking on Astana streets in this tour, you will enjoy breathtaking views of modern Western architecture and eastern traditional shapes in harmony with each other.
Itinerary:
Our English-speaking guides in Astana will start our Astana city tour start at Water Green Boulevard, a new downtown of Astana, which is located on the Millenium Axis.
During our Astana city tour we will visit the shopping and entertainment center Khan Shatyr and the Opera and Ballet Theatre "Astana Opera.
The Khan Shatyr is the largest shopping and entertainment center in Central Asia. The building was recorded in the Guinness Book of Records as the highest tent in the world. The Khan-Shatyr also entered the top ten eco-buildings of the world according to the Forbes Style magazine. The architect of this unique structure is Norman Foster, who is the author of several other architectural miracles of Astana. "Astana Opera" is the third largest theater in the world. If you want to visit the theater, the tickets must be purchased in advance at www.astanaopera.kz.
Then our professional city guides will tell about Sweet hearts' Park. There are several monuments here and a large, original in its architecture Fountain of 16 horseshoes (Horseshoes and a Wheel)
Then our guided Astana city tour will continue to the Round Square. Then we will take a walk along the Water Green Boulevard and reach Astana-Bayterek monument to enjoy breath-taking panoramic view of the city at the top of the monument.
Next we go to the Governmental Square, where the main state institutions such as the presidential residence "Ak Orda", buildings of Kazakhstani Government, the Parliament of the Republic of Kazakhstan, the House of Ministries and the Supreme Court are located.
We will continue our tour by visiting the Independence Square, where the monument "Kazakh Yeli" (Kazakh people), Khazret Sultan Mosque, the Palace of Independence, the Palace of Peace and Reconciliation (Pyramid) and the National Museum of Kazakhstan are located.
Astana Circus, Entertainment center Duman with its oceanarium, Ethno-memorial complex "Atameken"are some other places of interest in Astana.
Oceanarium of the entertainment center "Duman" is the most "far from the ocean" aquarium in the world located more than 3000 km away from the ocean. The volume of water in the aquarium is 3 million liters. 120 tons of sea salt were specially imported for its creation. It was opened in 2006. The aquarium is home for over 2,000 species of marine inhabitants, representatives of marine fauna from different parts of the world.
The park "Map of Kazakhstan ― Atameken" was opened in 2001. An area of ​​almost 2 hectares (2 football fields) is occupied by small copies of the architectural and natural attractions such as the symbols of Astana ― Baiterek, The Palace of Peace and Reconciliation, the main industrial facilities of the country, rural fields, mountain landscapes, the renowned tourist destination Burabai (Borovoye), different roads, bridges, etc. All areas and major cities, Astana and Almaty, are marked on a huge map of Kazakhstan. All in all, the park contains more than 200 miniature attractions and their number increases gradually.
We can continue our tour by visiting the Right Bank (the old city centre, the embankment of the River Ishim, the first presidential residence, catholic and orthodox temples, art galleries, etc.).
You will hear about the history of the city and its future perspectives. The itinerary can be changed according to individual preferences and interests. We also organize VIP tours in Astana both group and individual.
We will help you organize lunch, dinner in the national Kazakh style, where you can taste real koumiss (mare's milk), shubat (camel milk), beshbarmak (Kazakh national dish of horse meat and dough) and other dishes of Kazakh cuisine. The cost of a lunch is from 2000 tenge/person.
Duration: 2-5 hours (can be longer)
Prices
The service of an English-speaking guide:
-Individual tours (up to 5 ppl) - 5000 tenge/hour
- Group tours (more than 10 ppl) - 5000 tenge/hour
Translation/interpriting services in German - 5000 tg /hour
Transportation costs
Cars (Toyota Camry 50,etc.) ― from 3000 tg/ hour
Minivans Toyota Hiace - 3000 tg/hour (for 10 people)
Mercedes Sprinter - 4000 tg/hour (equipped with microphone) (for 10-18 people)
Tourist buses - from 7000 tg/hour (equipped with microphone) (for 45-50 people)
* Tickets to some sites are paid separately. Approximate prices are $1-1.5.
* Tour rates include hotel pick-up/drop-off, transportation costs and services of a local guide in English
Tel .: 8 (708) 4250480,
+7 (708) 4250480,
Email: saule.jk@gmail.com
The cost of entrance tickets for Astana sites:
Sites
Cost of tickets, per person
Note
"Astana-Baiterek"
Children-300 tg/person
Adults-700 tg/person
Palace of Peace and Accord "Pyramid"
group of up to 10 people
group of over 10 people
Children under 12 years - 400 tenge,
Older - 600 tg
children under 12 years old - 300 tg
Over - 500 tg
Ailand Center
All inclusive package
Children's ticket-3500 tenge / person.
Adult ticket is 5500 tenge / person.
RC "Ailand" (aquarium)
children under 12 years old - 2500,
Over - 3000 tg
Additional magnetic card is purchased - 100 tg
RC "Ailand" (Animated Theater "Jungle")
children under 12 years -2200 tenge
Over 2700 tenge
RC "Ailand" (cinema 5-D)
Children under 12 years old - 300 tg, older - 500 tg
Palace of Independence
Watching the movie 4D
Children under 12 years old - 300 tenge,
Older - 400 tg
Day off - Monday
Motor Boat Riding
Children under 7 years old - free of charge
From 7 -16 years - 500 tenge,
Adults - 1000 tg
From 12: 00-21: 00 only in the summer
Map of Kazakhstan "Atameken"
For all categories of citizens - 400 tg
A guided tour for a group of 10 people
in Russian, Kazakh - 200 tg per group
in English -500 tg per group
Only in the summer
Theater "Astana - Opera" (excursion)
Children under 16 years old - 500 tenge
Adults - 1000 tg
Pensioners - 500 tenge.
Entrance:
At 11:00 and at 15:00
Beach at the shopping center "Khan Shatyr"
children under 13 years old -? Tg
Older than -? Tg, the time is not limited (prices are not stable, specified at the time of visit)
(to have slippers and bathing accessories, bathrobe
National Museum of the RK
Admission ticket for schoolchildren - 200 tg
For students - 300 tg
For adults - 700 tg
with Halls of Gold - 1900 tg/adult person
The day off is Monday
National Kazmedia Center
Schoolchildren - 500 tenge,
Adults - 1000 tg per hour
Photocopies of passports
President of the RK
Visit free of charge
Day off - Monday
Palace of creativity of schoolchildren
Planetarium
500 tg per person
500 tenge
The palace accepts visitors only on working days
Military - Historical Museum of the RK
Visit free of charge
Day off - Monday
Tickets for EXPO-2017
4000 tg per person on weekdays
6000 tg at the weekend
Prices are higher on holidays.

Характеристики
Основные
Вид туров
Городские
Пользовательские характеристики
посещение основных достопримечательностей
культурный отдых